TOPPING D70S MQA
Balanced DAC 2x AK4497 I2S XMOS Bluetooth 5.0 LDAC 32bit 768kHz DSD512 

The Topping D70S MQA is an extremely versatile and powerful balanced digital to analog converter. With its careful design and intelligent architecture, it offers a realistic, rich and lively sound reproduction, while providing full connectivity.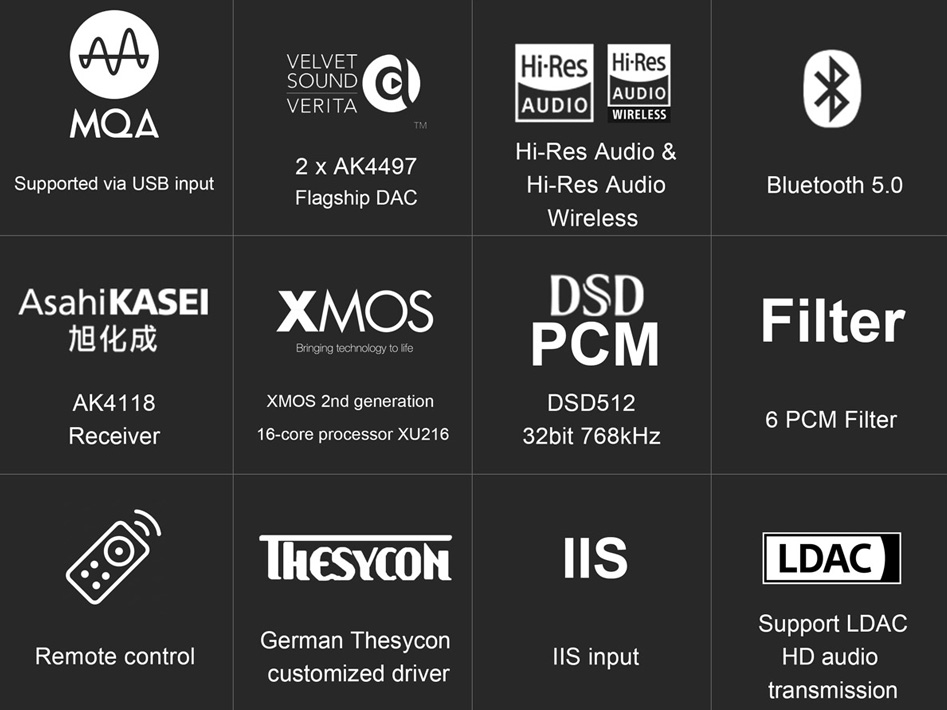 MQA Support
The D70S MQA supports Master Quality Authenticated (MQA) files. These allow you to enjoy sound reproduction as close as possible to the original recording in the studio, while still being light enough to be played back for broadcast.

Dual AKM AK4497 DAC
The D70S MAQ's digital-to-analog conversion stage has two AKM AK4497 DAC chips, one DAC chip per channel. This architecture provides better channel separation, while ensuring optimized overall performance, including extremely low THD+N.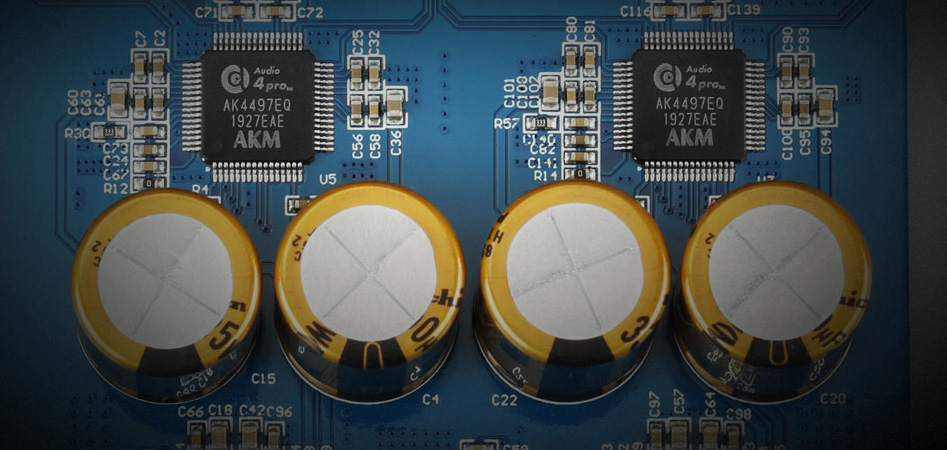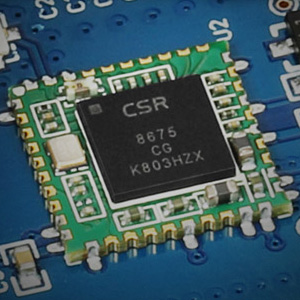 Bluetooth 5.0
Incorporating a Qualcomm CSR8675 chip, the D70S MQA features Bluetooth 5.0 reception, allowing you to stream your music remotely. The chip supports the standard SBC and AAC codecs, as well as the high-definition codecs aptX, aptX LL, aptX HD and LDAC, providing much higher quality playback. In addition, the DAC on the Qualcomm CSR8675 chip is not used here, as conversion is performed by the two AK4497 converters.
USB XMOS Interface
The USB input of the D70S is associated with a 16-core XMOS XU216 interface chip, supporting PCM audio streams up to 32bit 768kHz, DSD Native up to DSD512, as well as MQA decoding. A custom Thesycon driver is used, to enable the best playback performance via ASIO.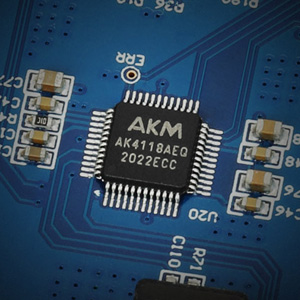 AK4118 Digital Receiver
The SPDIF inputs are associated with an AK4118 digital receiver chip. The latter allows very low jitter while supporting sample rates up to PCM 24bit 192kHz.
CPLD & Accusilicon Clocks
The D70S MQA uses an Altera MAX II CPLD. This takes care of the signal processing of the Accusilicon femtosecond clocks and signal optimization. This combination of CPLD and Accusilicon clocks allows an extremely low jitter level to be achieved, while perfectly synchronizing the digital signal processing and optimization for better signal quality and stability.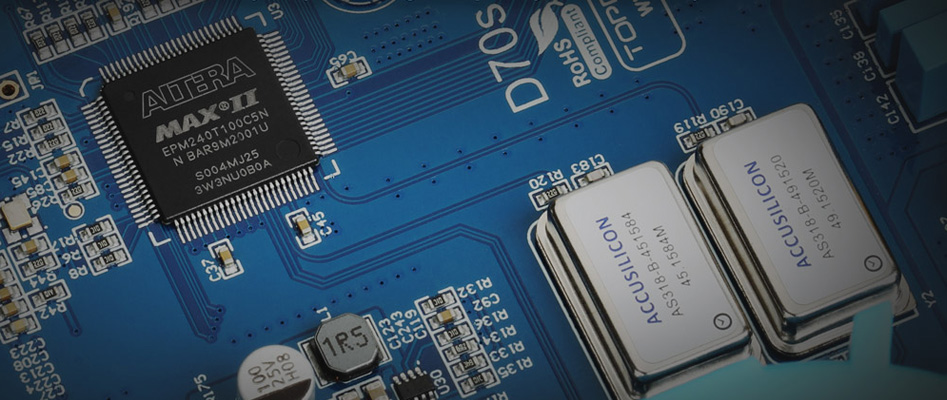 A more than complete connection system
The D70S MQA offers a wide range of connectors to meet all needs. These include AES/EBU, USB-B, Bluetooth 5.0, Optical, Coaxial and I2S. The USB and I2S inputs support high-resolution files up to PCM 24bit 768kHz and native DSD512. The Bluetooth input is compatible with the LDAC transmission codec, allowing support for 24bit 96kHz files.
Topping D70S MQA also allows to select the active outputs. It is thus possible to use only the balanced XLR output, the unbalanced RCA output or to output on both at the same time.

| | |
| --- | --- |
| 1 | Balanced XLR output |
| 2 | Single-ended RCA output |
| 3 | I2S HDMI input |
| 4 | Bluetooth antenna connector |
| 5 | Optical Toslink input |
| 6 | Coaxial input |
| 7 | USB-B input |
| 8 | AES/EBU input |
| 9 | Power connector |
| 10 | Power button |
Highly compatible I2S LVDS input
The D70S MQA's HDMI I2S input has several settings, making it compatible with most I2S interfaces. The "IIS Phase", "IIS DSDR" and "DSD FLAG" parameters can be adjusted.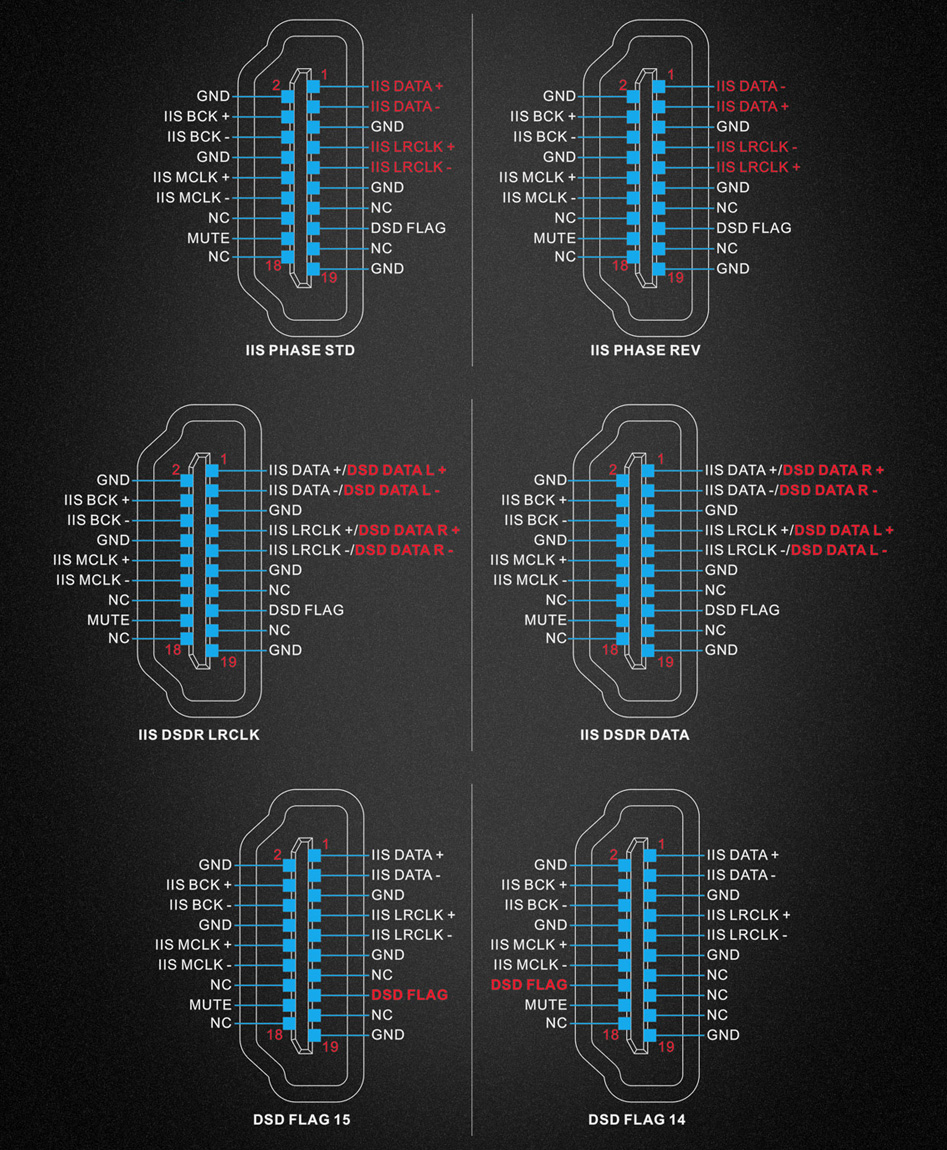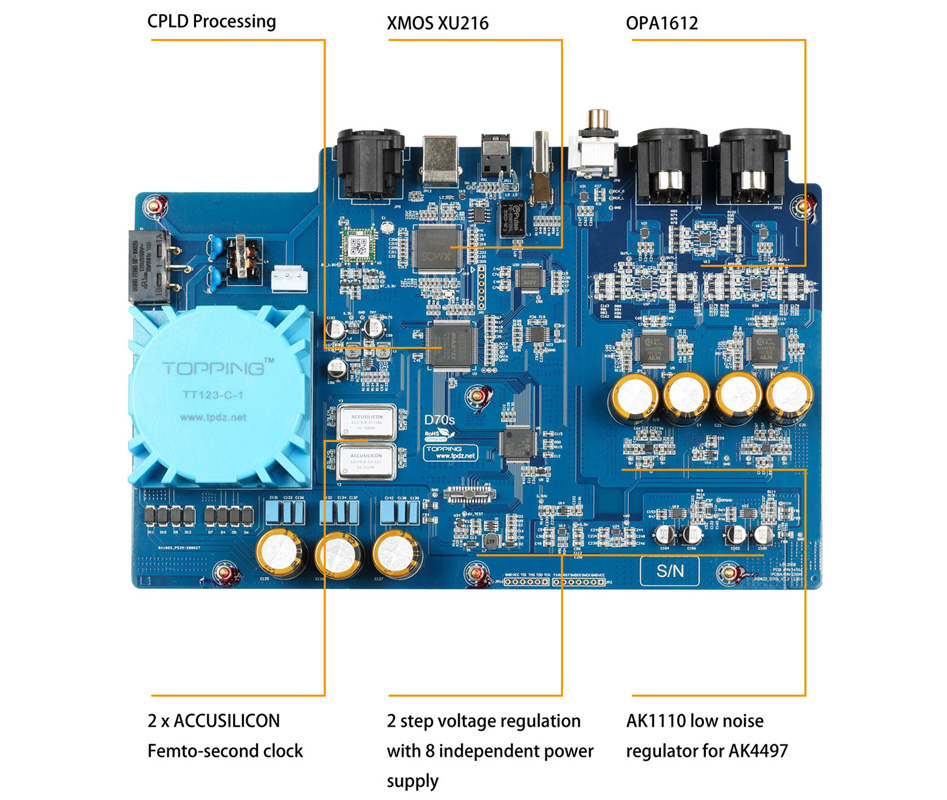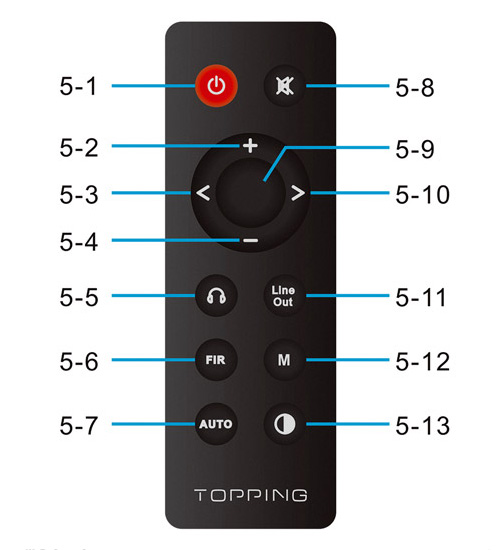 | | |
| --- | --- |
| 5.1 | Power button |
| 5.2 | Volume + |
| 5.3 | Previous input |
| 5.4 | Volume - |
| 5.5 | NC |
| 5.6 | Filter selection |
| 5.7 | Auto standby |
| 5.8 | Mute |
| 5.9 | Output selection |
| 5.10 | Next input |
| 5.11 | NC |
| 5.12 | NC |
| 5.13 | Brightness setting |
SPECIFICATIONS
Product type
Balanced DAC
Inputs
1x I2S LVDS HDMI
1x USB-B
1x Optical Toslink
1x SPDIF Coaxial
1x AES/EBU
Bluetooth 5.0
Outputs
1x Balanced XLR
1x Single-ended RCA
Supported sampling rates
USB : PCM up to 32bit 768kHz, Native DSD up to DSD512, DoP up to DSD256, MQA up to 32bit 384kHz
I2S : PCM up to 32bit 768kHz, Native DSD up to DSD512
Coaxial / Optical / AES : PCM up to 24bit 192kHz
Supported Bluetooth codecs
AAC, SBC, aptX, aptX LL, aptX HD, LDAC
MEASUREMENTS @ USB IN, 96KHZ
 
RCA line output
XLR line output
THD+N @ A-Weighting, 20kBw, volume = -2dB
< 0.00015% @ 1kHz
< 0.0001% @ 1kHz
THD @ No-Weighting, 90kBw, volume = -2dB
< 0.0004% @ 20Hz-20kHz
< 0.0002% @ 20Hz-20kHz
SNR @ A-Weighting
124dB @1kHz
127dB @ 1kHz
Dynamic range @ A-Weighting
124dB @1kHz
127dB @ 1kHz
Frequency response
20Hz - 20kHz (±0.1dB)
20Hz - 40kHz (±0.3dB)
20Hz - 20kHz (±0.1dB)
20Hz - 40kHz (±0.3dB)
Output voltage
2.5Vrms @ 0dBFS
5Vrms @ 0dBFS
Noise @ A-Weighting
< 1.3µVrms
< 2µVrms
Output impedance
100Ω
200Ω
GENERAL
Power supply
100-240VAC (switchable, power cable included)
Dimensions
25 x 19.5 x 5cm
Housing material
Aluminum
Color
Black or Silver
Package
1x Topping D70S MQA
1x Remote control
1x USB cable
1x Power cable
1x Bluetooth antenna